Indoor Air Quality in La Habra, CA
Experts at Spot On Heating, Air & Plumbing help residents improve their indoor air quality in La Habra, CA. The air inside your home is integral to your overall health and comfort. Excess debris and airborne impurities can increase your chances of developing allergies and respiratory infections. Besides your comfort and health, poor air quality can make your HVAC system inefficient. Debris in the air filters and air ducts can lessen the efficiency of your air conditioning and heating system. Excess humidity can prevent your air conditioner from adequately cooling your home.

At Spot On Heating, Air & Plumbing, we can provide indoor air quality testing services to help you understand if there are air quality issues in your home that should be addressed. We can test the air for chemical vapors, particulates, mold spores, viruses, bacteria, and more and recommend the best solution to improve indoor air quality.
Indoor Air Quality in La Habra
Our indoor air quality testing is performed by skilled and knowledgeable technicians who know how to check for impurities in your indoor air. When testing, we will carefully search for areas where contaminated air can accumulate in your home. We'll then give you a detailed report on the findings and offer solutions to eliminate the pollutants we find.
Our indoor air quality testing services offer countless benefits, including:
Improved HVAC efficiency
Overall odor elimination
Better health
Reduced energy bills
Better sleep
If you use a fireplace, cook on a stove, or smoke indoors without proper air filtration and ventilation, impurities will likely float around your home. The best way to keep these impurities at bay is to have your indoor air quality checked and maintained frequently by a professional. Our technicians have the expertise, experience, and equipment to help La Habra residents breathe clean, safer, and healthier air. We recommend, install, and service world-rated air purification equipment for our clients.
Indoor Air Quality Testing Team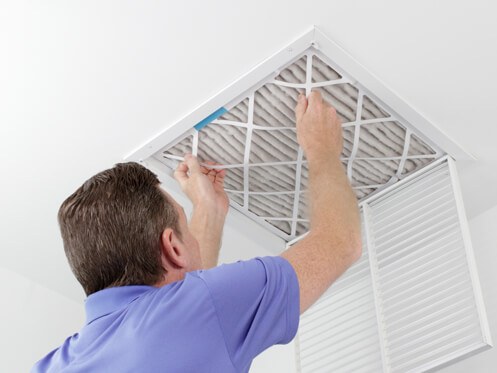 At Spot On Heating, Air & Plumbing, we provide expert air quality improvement services that help La Habra homeowners improve the air quality inside their homes. We only hire highly trained and experienced technicians and offer them continued training to ensure they deliver a customer-oriented experience you can trust. We take pride in being professional, dependable, and affordable. When you contact us, we respond quickly to your service call and come fully equipped to tackle any air pollutants that can compromise your health and comfort. We work meticulously without cutting corners and guarantee your satisfaction 100%.
Call us at Spot On Heating, Air & Plumbing today to schedule an appointment for indoor air quality testing in La Habra today! We also provide indoor air quality services in Whittier, Cerritos, Brea, and Downey.