Electrician in Whittier, CA
When you need an electrician in Whittier, you need one of the team members at Spot On Heating, Air & Plumbing. Electricity is a vital part of modern life and ensuring that all your wiring and electrical components are properly taken care of is imperative. A qualified electrical contractor can help keep your home and business safe from potential hazards by installing new lighting and rewiring old systems. We understand that your home or business relies on your electrical system's safe and reliable operation, so we go above and beyond to ensure customer satisfaction. As professional electrical contractors, we always strive to provide the highest quality of service while adhering to industry standards and safety protocols.
Reliable Electrician in Whittier
Lighting your home or office can be dangerous, and it is crucial to have an experienced electrician with the knowledge and tools needed to get the job done quickly and correctly. We can assess your electrical needs and provide a service plan that meets your needs. We can also install new lighting fixtures, ceiling fans, dimmers, and outlets.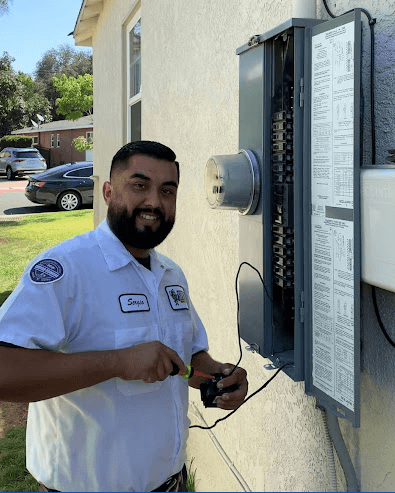 Wiring your home is also difficult and improper installation can lead to hazards, including fire and electric shocks. Our team of professionals is highly trained in safely wiring homes and businesses, so you can trust that your wiring is up to code and safe. We will also inspect your existing wiring, repair faulty connections, and update outdated systems.
Some of the signs that you need to replace or update your wiring include:
Flickering lights
Dimmed lights
Weird smells coming from outlets
Low voltage
Reliable and Quality Electrical Contractor
At Spot On Heating, Air & Plumbing, we aim to provide our customers with the highest quality of service, reflected in our commitment to safety protocols and industry standards. Our team of experienced electricians is highly trained and certified, so you can rest assured that we will carry out your project correctly. We also use the latest tools and technology to ensure your wiring is up to code and energy-efficient. Additionally, our customer service team is available 24/7 for repairs, questions, and advice. We provide courteous and knowledgeable customer service so that you always feel confident in our work. If you are looking for a reliable and qualified electrician in Whittier, then look no further than Spot On Heating, Air & Plumbing. Contact us for more information on our services.