Indoor Air Quality in Brea, CA
Spot On Heating, Air & Plumbing is proud to offer comprehensive indoor air quality in Brea, CA, and the surrounding areas. Poor air quality in a home can make a space an unsafe place to spend time. Exposure to various types of contaminants can cause sneezing and coughing, and some pollutants can cause extensive health issues. If your home isn't getting adequate airflow, it could be building up contaminants.

This can make indoor air significantly more polluted than the outside air around a house. Getting professional indoor air quality testing performed can help you get a better understanding of the situation that you're dealing with. You can trust an expert to offer a thorough assessment of the air in your home and offer sound advice about getting it cleaner.
Indoor Air Quality in Brea
Indoor contaminants can come from many sources, and it's a good idea to minimize them. Pets, cooking, cleaning supplies, and even furniture can produce particulates and volatile organic compounds. Bacteria and viruses can also enter your home and circulate in the air. If you have mold growing in your home, the spores can also be airborne and get inhaled, causing sickness.
You have many options available for improving air quality:
Air scrubbers
Purifiers
Upgraded filters
UV lights
An expert will have the skills to install any type of air cleaning system that you want. They'll make sure that everything is the right size to clean the volume of air that is found in your home.
Indoor Air Quality Testing Experts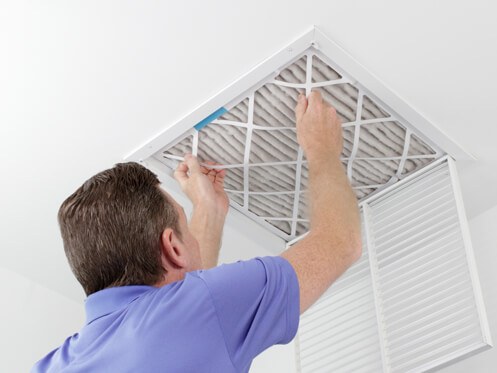 Our team from Spot On is dedicated to getting every job in Brea done right the first time. We offer top-quality services and are committed to operating our company with honesty and integrity. With more than 13 years of experience, we have the knowledge to resolve any issues that we come across. As a locally owned and operated company, we value each of our customers and take the time to meet their individual needs.
We're equipped with professional tools and high-quality parts and materials. We want our customers to have complete peace of mind about the air circulating in their space. With our flexible appointment availability throughout the week, we make it hassle-free to schedule with us. Our friendly technicians will show up at your home when expected.
To get your indoor air quality in Brea addressed, give our team from Spot On Heating, Air & Plumbing a call today. We also offer indoor air quality in Whittier, Cerritos, Downey, and La Habra.