Indoor Air Quality in Cerritos, CA
Are you worried about your indoor air quality in Cerritos, CA? If so, let the air quality experts at Spot On Heating, Air & Plumbing help you ensure that your home's air is fresh and clean. The first step to improving your home's air is indoor air quality testing.

Based on the results of the air quality test, we will be able to recommend various solutions or air quality equipment to help you overcome whatever issues you're facing.
Cerritos Indoor Air Quality Testing
Air quality testing uses specialized equipment to measure the total concentration of different airborne pollutants, contaminants, and allergens. Pollen, pet dander, dust mites, and mold spores are all common allergens found in most homes, and air quality testing can help you determine if you have a problem with any of them. Nonetheless, the biggest benefit of air quality testing is that it can help identify potentially harmful VOCs (volatile organic compounds) and other airborne pollutants.
VOCs are a major problem in most every home, and the reason is that many of your home's furnishings and building materials will naturally give off these harmful chemicals due to how they were made and what they were made of. Choosing low-VOC furniture and building materials can help reduce the concentration, but there is still no way to ever fully prevent them from being present inside your residence. Part of the reason for this is that they are also released by many common household chemicals and cleaning agents. Even cooking inside your house produces some VOCs.
The biggest issue with VOCs is that most of them can have various long-term health effects. Cancer is generally the biggest risk as formaldehyde, benzene, and other common household VOCs are carcinogenic. Long-term exposure to these chemicals has been directly linked to a higher risk for certain types of cancer and other serious health problems.
Depending on your home's current air quality, all of the following options may be able to help:
Air duct cleaning, sealing, or replacement
Whole-home air purification system or air scrubbers
Mechanical ventilation system
Whole-house humidifier or dehumidifier
Indoor Air Quality Experts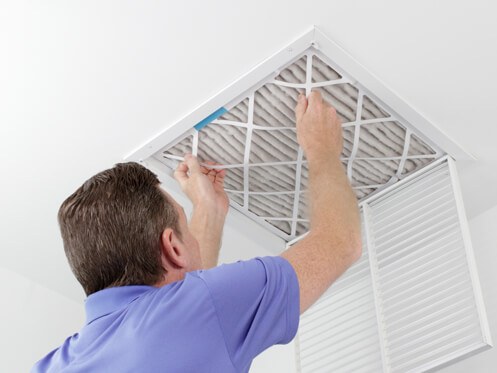 At Spot On Heating, Air & Plumbing, we have years of experience helping residents of Cerritos and the surrounding areas overcome their issues with poor indoor air quality. We are experts in indoor air quality testing, and we can help you choose the best option to quickly eliminate most any air quality issue including a high concentration of VOCs. Our team is always committed to ensuring our customers are 100% satisfied.
Contact Spot On Heating, Air & Plumbing today to learn more about the benefits of indoor air quality testing in Cerritos, and how we can help keep your home's air clean and fresh.
We also offer indoor air quality services in Whittier, Brea, Downey, and La Habra.