During the hot summer heat of La Habra, CA, effective air conditioning is a must. That's why you need an AC company you can rely on! Spot On Heating, Air & Plumbing is the premier choice of AC contractor in the area, offering exceptional service performed by certified, professional technicians. With 13+ years of experience under our belt in the La Habra area, we know how to treat our customers right and offer quick and efficient solutions in every type of AC situation.
Expert Help with AC Repair
When you are experiencing issues with your AC system, you need to call an AC company in La Habra to get help. Spot On Heating, Air & Plumbing is highly responsive to AC issues and our NATE-certified HVAC technicians can quickly troubleshoot your issue to restore the function of your AC. Your AC is an intricate system, and there are dozens of things that can go wrong, but our technicians are extremely experienced and enjoy a good challenge. That means you will be comfortable in your home in no time if you call our AC company for help.
5 signs you need AC repair in La Habra:
Reduced airflow
Strange odors
Leaks around the unit
Thermostat is not working properly
Air is room temperature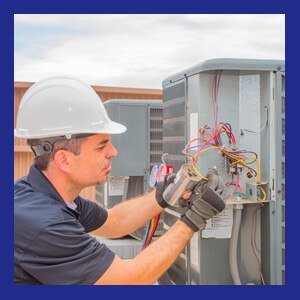 Leading AC Contractor for Replacement in La Habra
While we can find a solution to almost any AC repair issue, sometimes it is smarter to start thinking about AC replacement in LA Habra. If a unit is aging, it may not be wise to continue to spend money on it, especially when replacement is imminent. Sometimes cutting your losses and going with a new unit just makes the most sense. Once an AC gets over ten years this becomes more of a reality, but repair is sometimes still a viable option. If you aren't sure what to do, call Spot On Heating, Air & Plumbing and we will send out a technician who can offer you some advice.
La Habra's Top Pick for AC Maintenance
The best way to protect your AC system and ensure that you stay comfortable in your home year-round in La Habra is with regular AC maintenance. We offer an AC service program that includes annual cleaning, inspection, and repairs. By regularly maintaining your AC you allow us to spot potential issues and fix them before your AC is disrupted.
If you want to stay comfortable in your La Habra home, call the AC contractor you trust, Spot On Heating, Air & Plumbing, and set up your service visit today!
Does your furnace concern you more than your AC? Spot On Heating, Air & Plumbing also offers comprehensive furnace services.