Indoor Air Quality in Downey, CA
If you have a concern about the indoor air quality in Downey, CA, our team from Spot On Heating, Air & Plumbing is ready to help. An air quality service provider can assess the specifics of your situation, test the air, and explain the results. Whether you have excess indoor air pollution because of poor airflow in your home or because you live in a polluted area, an expert can provide options for getting air as clean as possible.

Poor indoor air quality can arise for a variety of reasons. If your home isn't getting enough airflow, contaminants can build up over time. This can be a problem in modern homes that are built to be airtight and energy efficient. Indoor air can also be affected when the air around your home is polluted, especially during fire season.
Downey Indoor Air Quality Services
An expert can help you identify where indoor pollutants are coming from so that you can get them addressed. Reducing the sources of contaminants can be a great way to improve indoor air quality.
There are a variety of sources of indoor air pollution:
Pet dander
Gas stoves
Building materials
Personal care products
To further clean the air in your home, you can upgrade the filters in your heater and air conditioner. This can remove a greater percentage of particulates and volatile organic compounds. An air scrubber is also highly efficient at removing dangerous contaminants.
Downey's Air Quality Service Provider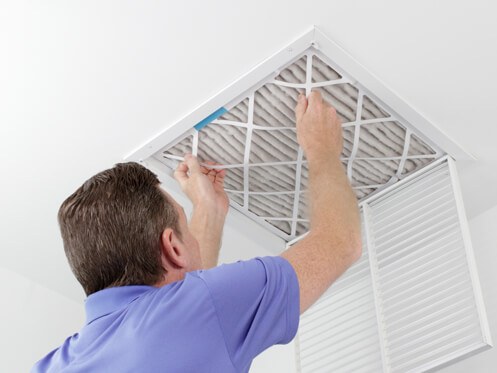 Spot On Heating, Air & Plumbing is committed to excellence, and we do our best to exceed the expectations of each of our customers in Downey. Our company is locally owned, and we work hard to perform high-quality work at all times. We value the trust of our customers and want them to have a positive experience when working with us. We've been working in the industry for more than 13 years, and we make sure that our technicians receive the proper training. Our team is fully licensed, and they use professional tools and high-quality parts for all of their work.
With our years of experience, you can have the confidence that we'll take the right steps to keep your property protected. Our rates are reasonable, and we're happy to provide a cost estimate for any job before we get started. Our services can make your home a healthier place to spend time.
Find out more about your options on keeping your indoor air quality in Downey as clean as possible by calling our team from Spot On Heating, Air & Plumbing today. We also offer indoor air quality in Whittier, Cerritos, Brea, and La Habra.