AC Company in Cerritos, CA
For over a decade, Spot On Heating, Air & Plumbing has been proudly serving Cerritos, CA, as the top AC company in the area. Simply put, we are the best at what we do and offer each and every one of our customers' personalized solutions designed to meet their needs. As the leading AC contract in the region, we work on a wide variety of AC models and offer everything from initial AC installation to both unexpected and routine service so you never have to worry about being left out to roast in the Cerritos sun.
Professional AC Repair in Cerritos
There are a lot of things that can go wrong with your AC, but with the right AC company in your corner, you won't have to worry about anything. Spot On Heating, Air & Plumbing is proud to only hire NATE-certified technicians who are experienced at working on all types and models of AC units. This enables us to find repair solutions for just about every issue, and our determination means we won't leave your Cerritos home until your air is on and you are cooling back down.
Cerritos' Leading AC Contractor for Installation
We always work hard to find the best AC solution, and sometimes the wiser choice is actually AC replacement. If your air conditioner is over ten years old, it can often make good sense to start planning for replacement. Technology has changed a lot in the last ten years, and even well-maintained AC units can't keep up with new models. If you're interested in speaking with an AC contractor that will give you honest, expert advice, [company_name] is the name to trust in Cerritos.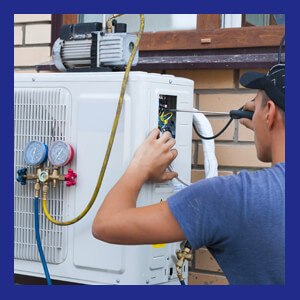 Experienced AC Maintenance
Whether you have a new AC unit or an aging AC unit, annual preventative maintenance is the best way to keep it functioning at its full capacity. As the leading AC company in Cerritos, we are proud to offer regular service plans to all of our customers. In addition to keeping your warranty valid, regular maintenance will elongate the lifespan of your unit and keep your warranty valid.
4 benefits of scheduling regular AC maintenance:
Lower humidity in home
Avoid costly emergency repair
Lower energy bills
Lengthened lifespan of unit
There's no job too big or small for our team! Spot On Heating, Air & Plumbing is the AC company in Cerritos that always does a tail-wagging good job. Contact us today for service!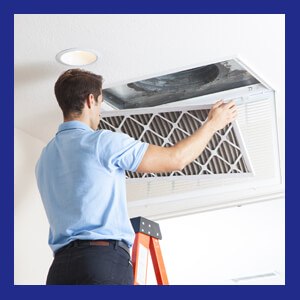 Does the idea of firing up your furnace make you nervous? We can also help with that! Call us for any heating services you may need.
From strange noises to no cold air, our technicians fix it all. Call us for AC repair and we'll be right there!
Ready to get started with a new air conditioner? Our AC installation pros will help you through the process and handle the details with ease.
Has it been a while since you scheduled AC maintenance with an AC company in Cerritos? Contact Spot On Heating, Air & Plumbing today to get your name on our list.