AC Installation in Cerritos, CA
Are you looking for reputable AC installation in Cerritos, CA? Spot On Heating, Air & Plumbing provides quality AC replacement services to clients in your area. Perhaps you have realized that your AC is no longer as efficient as it once was. You might be paying a high energy bill with nothing to show for it as far as cooling goes. California gets quite hot and humid, and you should always ensure that your AC is in perfect working condition to enjoy comfort. When you realize that your current cooling unit no longer works, it's best to involve an expert.

Reliable AC Installation in Cerritos
Your air conditioner will never quit working without a sign. Long before it stops working, there is always a sign that you need to do something about your AC. It's critical to monitor your AC's behavior. That way, you can quickly contact an expert to handle any issues. However, many people don't know what to look for, and those that do often ignore the red flags.
These are some signs that your AC might be overdue for replacement:
Frequent repairs
You don't get cool air
Strange smells and noises
Leaking AC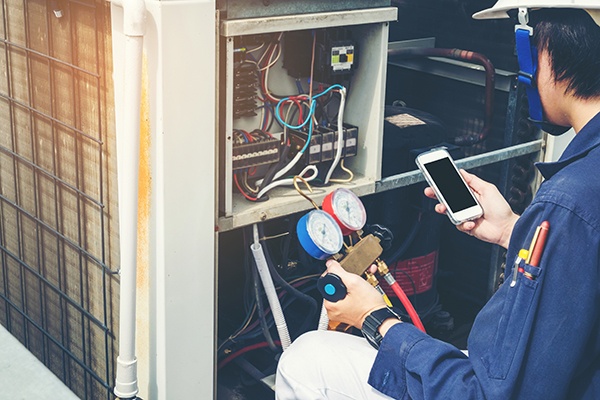 Many homeowners try to avoid replacement for as long as they can. Most people prefer to go with the repairs to save some money. When your unit has outlived its term of service, no amount of repair will help you. You will likely spend much more if you choose not to install a new AC, which is more energy efficient. Knowing when to let go of your old cooling unit is the trick to getting the most out of your AC. We can help you make the right choice, depending on the needs of your home and your budget.
Professional AC Replacement
Installation of a new AC is not a job you should leave to just anyone. If done the wrong way, you may spend much more because of the energy waste. Spot On Heating, Air & Plumbing has a team of experts with the necessary skills and the right equipment. Our company has more than 13 years in the industry. With all this experience, you can expect nothing other than quality from us. It's critical that you only work with an expert AC contractor like us. We do everything it takes to guarantee your indoor comfort. Your satisfaction is at the top of our list of priorities, and we do our best to ensure each client receives quality service. A glance at our reviews tells it all. Making us your choice is a decision you won't regret.
For quality AC installation in Cerritos, give Spot On Heating, Air & Plumbing a call today!
Our friendly technicians are also prepared to help with AC repairs, AC maintenance, and furnace installation.