AC Installation in Brea, CA
When it is time to have a new air conditioning system installed in your home, be sure to schedule an AC installation in Brea, CA. Our professional AC replacement team will assist you in finding the right system to meet your needs and your budget. Choosing a new home air conditioning system is not something that you want to do alone, as new systems are typically a large financial investment for most homeowners.

Professional AC Installation in Brea
Whether you are purchasing an air conditioning system for the first time or looking to upgrade your current unit, you will want to do so with caution. Enlisting the help of an air conditioning professional can help to ensure that you choose a system that actually meets your needs and will do so for the next 10 to 15 years.
There are many different factors that you'll need to take into consideration when purchasing a new AC unit, such as:
Price
Cooling capacity
Tax rebates
Warranty coverage
Ongoing maintenance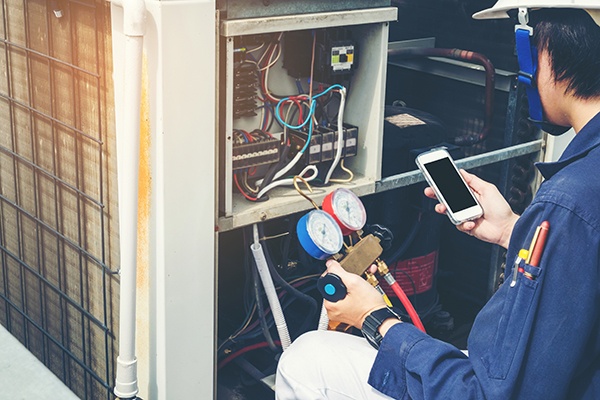 You need to be very mindful of these factors to ensure that you are choosing a system that's best for both your budget and your cooling needs. Many homeowners who do not enlist professional help will end up purchasing air conditioning systems that are too large for their homes. This leads to constant system short cycling and will drive up your energy costs throughout the long summer season. Even worse, most manufacturers will not allow you to exchange your AC unit for a different size once it has been installed.
Your Hometown AC Replacement Expert
Spot On Heating Air and Plumbing is your hometown AC replacement expert serving Brea and the surrounding communities. We always provide top-notch care and solid solutions for our loyal customers.
All of our technicians are qualified and highly skilled in the HVAC industry. We are proud that we can offer reliable, customer-oriented, and affordable services to all of our valued clients. Whether this is your first home air conditioning system or another replacement, you will love working with our friendly and knowledgeable technicians. We are happy to travel all throughout the Brea community to provide quality AC installation services.
If you are in need of professional AC installation in Brea, be sure to contact Spot On Heating Air and Plumbing today to get the expert help that you need!
Our friendly technicians are also prepared to help with AC repairs, AC maintenance, and furnace installation.