AC Installation in La Habra, CA
Look to Spot On Heating, Air & Plumbing for your next AC installation in La Habra, CA. We'll see your project through in a timely manner. Getting an AC replacement is a wise decision if your existing unit is old or nearing its end. All makes and models become more prone to breaking down once they reach the 10-year mark. Because your family's comfort is on the line, you should improve your AC setup sooner rather than later.

We offer some of the best cooling systems on the market, and it's our job to help you find the right model for your home. You can rest assured that a new air conditioner from us will bring you relief and joy by meeting your cooling needs on every hot day of the year.
La Habra AC Installation Service
Sometimes, it's cheaper to buy an AC replacement than to keep repairing a badly damaged unit. Spot On Heating, Air & Plumbing offers fantastic financing options on approved credit to help you cover the cost of a high-quality system. On the day of your appointment, you can count on us to arrive punctually to complete the installation. Your air conditioning unit will be up and running before you know it. To make sure you get the most out of it, we'll simply show you how to use it. You'll be glad to know that the newer models from the top brands use the latest cooling technology.
Upgrading your AC appliance comes with terrific benefits:
Comfortable living environment all summer
Stable energy bills
Increased peace of mind
Higher property value
It's more convenient to use a high-performance air conditioner that's free of issues. There's no doubt that the unit will work like a charm and maintain your desired indoor temperature. During each cooling cycle, you won't be disturbed by strange AC noises. The newly installed air conditioning system will run quieter and smoother than the old unit. We prefer to provide you with products that are worthy of your hard-earned money.
Trusted AC Replacement Team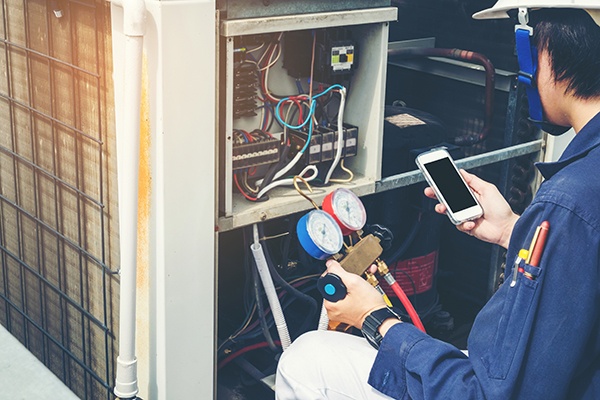 You'll be happy with Spot On Heating, Air & Plumbing. We'll spare no effort to meet your expectations. Since our beginning, we've held ourselves to the highest standards to provide exceptional service consistently. That's why we're popular in Orange County.
Our technicians are dedicated to excellence and certified with NATE. When you request a professional helping hand at your La Habra home, we'll respond with a sense of urgency. Maximizing the comfort of your living space is important to us.
Our second-to-none customer support will make you feel special. Call Spot On Heating, Air & Plumbing today to schedule your AC installation in La Habra. We can also help with AC repair and maintenance.
Need to replace your heater? We can also help you with a new furnace installation that will suit your home and budget.