AC Installation in Downey, CA
At Spot On Heating, Air & Plumbing, we're dedicated to offering affordable AC installation in Downey, CA. If your air conditioner is breaking down frequently or not operating as efficiently as it used to, it could be time to move forward with an AC replacement. Most air conditioners will run properly for about 10 years before wear and tear on their parts makes them prone to issues. Getting a new AC unit could end up being a great investment in your home. You can trust our experts to help you choose a unit that will be properly sized for your space. They can show you how to calculate the savings that a new system could provide over the course of its lifespan.

AC Installation in Downey
When you have our technicians install a new air conditioner for you, everything will be done properly. You can trust the professionals on our team to get your system set up for optimal operation so that you can have complete peace of mind about it. A new air conditioner will be able to keep your home at the right temperature regardless of the weather outside.
There are many benefits to getting a new air conditioner, such as:
Reduced carbon footprint
Lower monthly utility bills
Enhanced personal comfort
More reliable and quieter operation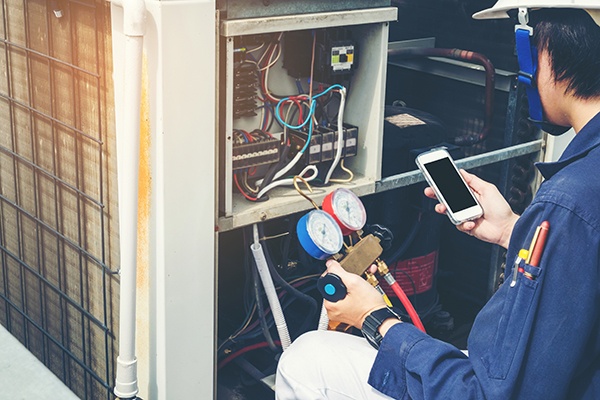 When your new unit has been installed, you'll receive training on how to operate and care for it. You'll be able to ask any questions about your new system so that you can use it with confidence. Your old AC unit will be removed from your property to ensure that all parts of it are disposed of safely.
Trusted AC Replacement Experts
At Spot On Heating, Air & Plumbing, we'll go the extra mile to meet the individual needs of each of our Downey customers. We have more than 13 years of experience in the industry, and we'll stand behind the exceptional quality of our results. Our technicians have the experience to work with all makes and models of air conditioners. They'll give every job their full attention from start to finish.
As a locally owned and operated company, we're able to personalize our services to meet the individual needs of each of our customers. Our technicians will arrive at their appointments punctually and with everything needed for an installation.
To learn more about getting a new AC installation in Downey, give our team at Spot On Heating, Air & Plumbing a call today.
Our friendly technicians are also prepared to help with AC repairs, AC maintenance, and furnace installation.